El Paso's Premier Mental Health HospitalComprehensive care for adults and teens who are suffering from psychiatric disorders and addiction
compassionate care
Rio Vista Behavioral Health offers state-of-the-art inpatient services for adults and adolescents who are struggling with mental health disorders and addiction in El Paso, Texas. We provide men, women, and adolescents in our community with individualized planning and ongoing recovery support.
Introducing Rio Vista Behavioral Health Hospital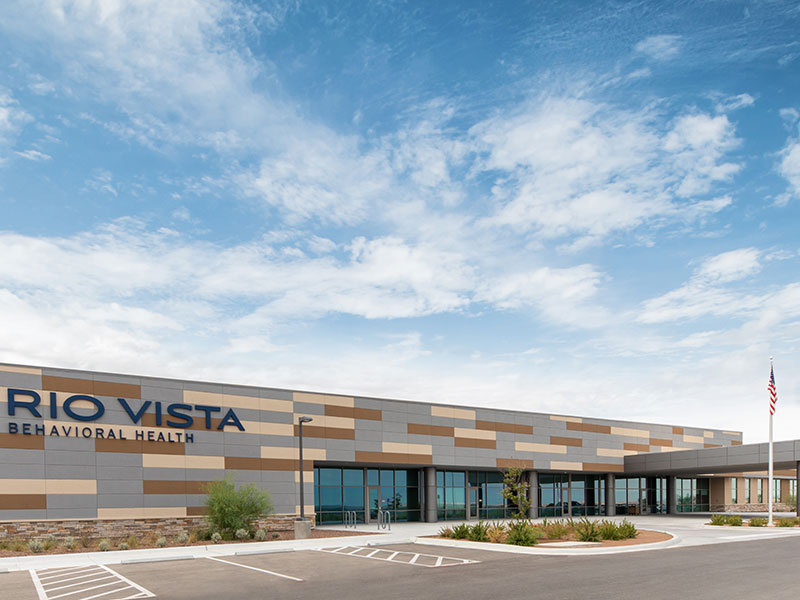 Programming Overview
Rio Vista Behavioral Health provides state-of-the-art inpatient psychiatric and substance abuse services in the El Paso, Texas, area. We offer individualized planning and ongoing recovery support for adults age 18 and older and children ages 11-17. Our team is adept at serving high-acuity patients who may be struggling with symptoms of serious mental health concerns, such as trauma, mood disorders, anxiety, and psychosis. We're also pleased to provide support for individuals in need of professional care for chemical dependency as a secondary concern.
Patients at Rio Vista Behavioral Health will have access to innovative holistic and evidence-based modalities, including cognitive behavioral therapy (CBT), dialectical behavior therapy (DBT), mindfulness-based cognitive therapy, art therapy, and recreational therapy. This integrated approach offers a broad spectrum of therapeutic interventions that foster comprehensive healing of the mind, body, and spirit.
Compassionate, Individualized Care
At Rio Vista Behavioral Health, we provide a beacon of hope for individuals who are experiencing behavioral health challenges. We believe in the healing power of strong relationships and will partner with individuals, families, and other providers to ensure successful outcomes for those in our care. Our unique approach to healing can help you embrace your goals for recovery and begin the path to a healthier future.
Often, chemical dependency and mental health concerns can manifest simultaneously. For this reason, we provide services for mental illness and addiction as a secondary concern. By addressing all of your presenting symptoms at the same time, you'll experience healing on a deeper level and build a foundation for lasting success in recovery.
Why Choose Us
Sometimes, the stressors and pressures of daily life can impact your ability to get your symptoms under control. But by entering inpatient care and spending time away from your home environment, you can stabilize, learn new coping tools, and set the course for success in recovery.
Our acute inpatient program provides 24/7 supervision and support in a safe, tranquil setting. The staff at Rio Vista Behavioral Health will provide a unique plan of care for each patient and will work with patients and families to ensure a positive experience.
By engaging with the various supports at Rio Vista Behavioral Health, you or a loved one can gain the strength and clarity needed to progress in recovery. If you'd like to learn more about any aspect of healing at our center, please contact us at your convenience. We are always available to answer your questions or to help you begin the admissions process.